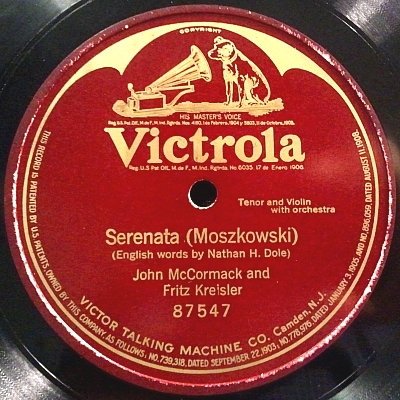 Victor Red Seal 78 RPM Records
1903-1958
Before Victor introduced its Red Seal (Label) line in 1903 the phonograph was considered simply a novelty, not a serious medium by which to enjoy music. Technological progression was making records longer with better sound but one crucial factor was still missing, high talent. Well-established artists, especially the Classical and Opera ones, felt the phonograph couldn't reproduce their performances with justice. The earliest field was thus left to a generation of unknown performers who became famous through the phonograph. As the new century dawned, the record companies sent representatives out to change that.

Victor's affiliate in Europe, the Gramophone and Typewriter Company, was the first to record known celebrities on a major basis. They also came up with the Red Label idea in order to highlight this distinguished series, with a steeper retail price of course. Victor adopted this idea, patented it in the States and even kept other companies from using a red label for some time. The earliest Red Seals were imported from G&T but a studio was soon set up in Carnegie Hall to produce some domestics before production commenced at Victor's regular studio. Francesco Tamango, Nellie Melba and Antonio Scotti were among these earliest artists with Tamango commanding a whopping $5 for his records. Other impressive prices were had, topping out at $7 for a celebrity gathering in the "Lucia-Sextet". Yet, new talent was still welcome and promoted. Enrico Caruso, a heretofore-unknown Opera singer from Italy, first recorded in 1902 and quickly became the most celebrated artist of the Red Seal line, the Acoustic Recording Era and of the whole Opera world in the Twentieth Century. He and other Red Seal artists were largely responsible for finally making the phonograph a respectable medium.

Victor's Red Seal line was well served by the twelve-inch disc and was produced in abundance as such until nearly the end of the 78 RPM Era. However, ten-inchers are common too. Eldridge R. Johnson and Victor resisted making double-sided Red Seals until 1923, when all were doubled-up, because they felt the music was so exclusive. They were made in the 33-1/3 RPM format starting in 1950 and eventually found their way to Compact Discs and the modern formats of today. For the purpose of this section and website though, 1933 is the cutoff date. That's not a special year for this kind of music but it syncs with the end of the Jazz Age and changing landscape of the Great Depression.

This page covers the 87500 series from 87500 to 87582 with release dates ranging from 1908 to 1923. These discs are ten-inches in diameter and single-sided. They retailed for $3.00 until 1919, when they were reduced to $1.50, $1.25 and finally to 80¢ during the 1925-26 clearance of acoustic recordings.
Encoded Speed: 192 Kbps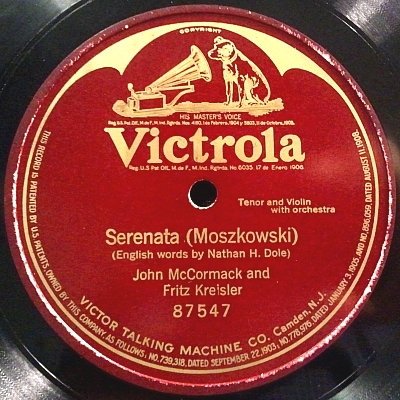 Serenata
Victor 87547
Matrix# B-16090, Take 1
June 10, 1915
New York, New York
Note: Worn.
Return To Front Page